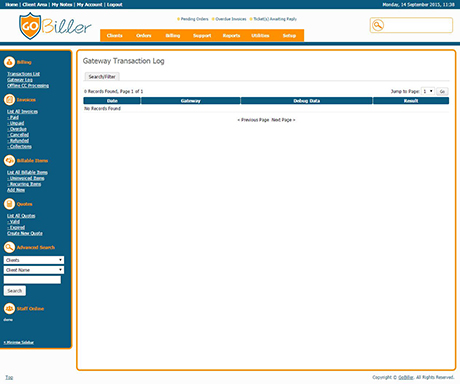 The Gateway Logs
If transactions aren't being automatically handled by GoBiller then it is often useful to take a look at the transaction log. The transactions log can be viewed by going to Billing > Gateway Log.
If a payment return has been made by a payment gateway integrated with GoBiller then details of the return will be listed here. Each return has three possible outcomes - Successful, Invalid or Error.
A successful payment return occurs when the payment is identified and recorded by GoBiller automatically and any required actions are performed.
An invalid return occurs when the data returned from the gateway is not expected by GoBiller - for example the Invoice ID is wrong or the payment value doesn't match
Finally, an error return occurs if the data sent from the payment gateway contains errors or cannot be verified

Invalid returns will occur from time to time when the data received is not fully valid and are usually only random one offs. If you start getting a lot of transactions coming back as invalid or as errors then you might want to contact us so we can check it out.